CRIKEY! Would you look at that rack!
NO
not that one, this little bugger!
YES, THIS OVERSIZED PICTURE SHOWS THE HEART AND SOUL OF THE USF: THE WEAPON RACKS
But, what the bluhdeh heck is wrong with such a fine, magistic creature? aside from the near uselessness of the bazooka and overprice munitions cost, But that is for another time....
The REAL Problem is the inability to let your teammates acquire the might of the USF dakka. because lets face it: The Bazooka might be bad...
BUT THE PTRS ON THE OTHER HAND.....
But why would our lord and savior R(elic)NJesus not let the poor, poor, USF not partake in the ancient art of Lend-leasing?
I mean, its not like the United States actually did lend-lease and did it in the billions?????
Solution: ​Let any teammate collect Uncle Santa Sam's Goodies to spread cheer to the Axis! (With a 25% increased Muni Cost for the teammate of course...)
"But Why the Extra Cost??? OMG gritle u so axs fanboi u su-"
AHEM, I think a +25% cost is their to give any fellow USF an incentive to use their own weapon racks and not leech of the poor fellow teammate.

SO THERE YOU HAVE IT, I, GRITTLE, HAVE PRESENTED ANOTHER FORM OF BALANCE FEEDBACK TO BALANCE THE ALWAYS BROKEN 3v3 and 4v4 MATCHUPS

NEXT TIME ON OUTBACK ADVENTURES: THE CLIPPED-WINGED DUCK OF GERMANY...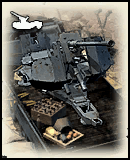 OKW FLAK 38 EMPLACMENTS!