Baptist at Seelow, a two to four player map inspired by the mission "Written in stone" from Brothers in Arms: Hell's Highway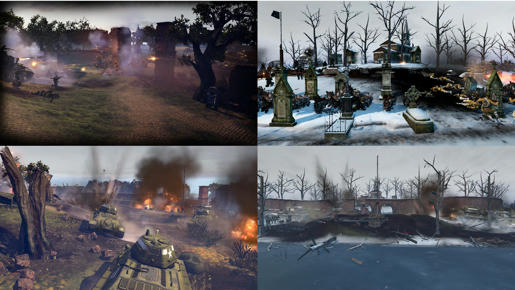 Feedback, especially regarding balance and bugs is greatly appreciated.
(2 - 4) Baptist at Seelow "Summer and Winter"
Current version:
4p_outskirts_of_seelow_"Summer" (WORKSHOP)
4p_outskirts_of_seelow_"Winter" (WORKSHOP)
A04:
Added a winter variation of the map.
Fine-tuned the territory sectors.
Added some more debris.
A03:
Adjusted the location of some of the territory points to improve light vehicle pathing.
Added "destruction".
Slightly more variation in the cemetery.
smoothed out the terrain along the river/channel.
More 3D grass.
A02b:
Corrected a slight mistake with the capture point blocking the exit out of spawn for some light vehicle.
A02:
Added functional minimap.
Improved the area surrounding the vicarage/estate.
3D grass.
Added a couple of new ways through outer walls.

In game screen shoots taken with help of
[COH2] CheatCommands Mod [Version: Beta 1.00]
.