Hey guys,
I have decided to open a beta testing phase for the new CheatCommands Mod II. I released a demonstration video of it some time ago. I case you haven't seen it, here it is again: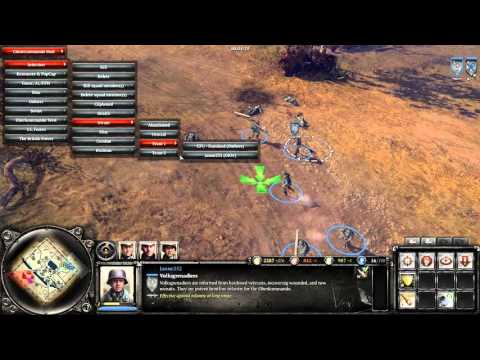 It's good for generic reference of the menu structure although I have done some re-structuring.
Available Downloads
Older
Changelog
April 6th, 2016 - v0.4
Fixed a fatal scar error when setting an entity neutral
Added Suppression monitor (experimental)
Added an option to set suppression and health monitor update rates (separately)
Improved suppression and health monitor kicker message visibility
March 24th, 2016 - v0.3
Fixed an issue where certain emplacements would result being abandoned when instant construction is enabled
Added 4 new units to the spawn lists: Ostheer Artillery Officer, Soviet Commissar, USF M3 Half-track (Assault), and USF M3 Half-track Transport (Calliope commander)
Added improved menu backgrounds
Added option to enable/disable all AI players at once
Added an option to enable/disable resource income for the selected player
March 15th, 2016 - v0.2
Fixed a bug where setting an entity invulnerable would cause a fatal scar error
Fixed an issue where pasting empty clipboard would cause a fatal scar error
Fixed an issue where enabling health monitor would cause a fatal scar error
Fixed an issue where splitting a neutral squad would cause a fatal scar error
Fixed an issue where AI was disabled by default
Fixed an issue where "Delete Everything" would delete territory points
Added Game->Camera Height Limit (Default/Increased), on/off toggle for greatly increased camera max zoom height
March 14th, 2016 - v0.1
Initial beta release of the mod.
New features:
Set garrisoned team weapon direct facing/cancel it (for controlling other players' units)[/spoiler]
Installation
Download the latest version
Copy the downloaded .sga file to My Games\Company of Heroes 2\mods\gamemode
Launch COH2, select "CheatCommands Mod II" from the Win Condition- dropdown menu.
Start the game (any map, any number of players/AIs)
How can I help?
Test the mod, preferably online with at least 2 human players of total
Report any bugs, Fatal SCAR Errors, Sync Errors, Crashes, etc.
Make sure to provide detailed instructions on how to re-produce the bug/crash
Give feedback!
How you'd improve it?
What feature/function you'd like to see/is missing?
What do you like? What you don't like?
FAQ
Can I use this in Singleplayer or TOW?

Does this version replace the current Workhop version?

The current Steam Workshop version is going to remain as it is and receive updates. CheatCommands II is going to be an entirely new mod.

How does it work?

The mod itself is purely implemented with SCAR. There is no attribute tuning what-so-ever. Currently there's over 10,000 lines of code, most of it being the framework (consisting of my helper library and event-driven UI system)
License
Copyright (c) 2016 Janne Varjo

This software is provided 'as-is', without any express or implied
warranty. In no event will the authors be held liable for any damages
arising from the use of this software.

Permission is granted to anyone to use this software for any purpose,
including commercial applications, and to alter it and redistribute it
freely, subject to the following restrictions:

1. The origin of this software must not be misrepresented; you must not
   claim that you wrote the original software. If you use this software
   in a product, an acknowledgement in the product documentation would be
   appreciated but is not required.
2. Altered source versions must be plainly marked as such, and must not be
   misrepresented as being the original software.
3. This notice may not be removed or altered from any source distribution.