This applies to 2vs2, 3vs3, 4vs4.
For axis units rear front side does some difference for allied tanks not at all. This esp. in the late game makes it impossible for allied to kill panther, brumbär even P4s on huge maps. I' m not even talking about the Ostwind super tank....
to kill these tanks u need at least 6-8 hits or like 10-12 shots on it front side. So to kill it you have either to snare it or have like 20 units on the field.
Why flanking doesn't work. While most allied tanks are slow, an exception is the comet, axis tanks are very agile and fast. They even can be "doped" with speed.
As the following situation illustrates: A 2 star panther has moved into a bad position.
What will happen next? You are right nothing. The panther just turns and moves out of distance within the next 5 seconds. All remaining front side shots don't hit or penetrate.
Now the question is what do I get in return for my units 2 at guns and 2 at-troopers (1520 MP). Apparently nothing. Let's try soomething different and get tanks.
Ok let's start.
He's going down -or not? Well 3 more shots and it's not down but going backwards with highspeed...
Well no enemy there but the tank immediately turns the turret to nowhere. Well let's get the panther with the other jackson...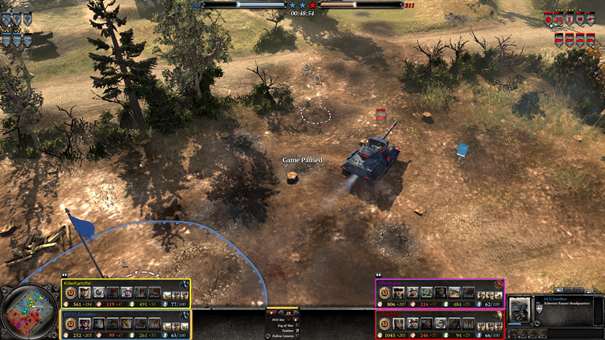 OOOOps there were 2 volks who just used 30 ammo to cripple and almost kill me which then did the panther with his 1st shot front side...
So for 125 fuel i get a weapon platform that can hit only tanks, buildings and weapon crews which also needs 9 seconds to reload.
For 75 more fuel a panther is more agile with the same speed backwards as a jackson forward and a devastating impact on infantry at the same firing rate of the jackson.
Oh look here. 2 Panther against 1 at gun. How long does it take? 1 front side hit then they are next to the at gun. And 7 seconds later the at gun is dead. You do remember a jackson needs 9 seconds to load....
If you wanna talk about mines, pls don't. For USF mines need a vehicle for 20 fuel and then 50(?) ammo to lay 1 mine... somewhere in the nowhere and for RMs they die next panther very quickly ... as at guns do ...
ah the Stuart sry guys Allied need all kind of units combind to kill 1 tank?
Maybe for the panther speed would do it. Make him a bit slower esp. backwards....